Experience Unparalleled Surveillance with HIKVISION DS-2SE7C124IW-AE(32x/4)(S5) TandemVu 7-inch 2 MP 32X Powered by DarkFighter IR Network Speed Dome
Description: Experience unparalleled surveillance with the HIKVISION DS-2SE7C124IW-AE(32x/4)(S5) speed dome camera. Enjoy high-resolution imaging, advanced features, and reliable performance in various lighting conditions. Trust HIKD, the global leader in video surveillance solutions
When it comes to advanced surveillance solutions, HIKVISION continues to push boundaries with their cutting-edge technology. The DS-2SE7C124IW-AE(32x/4)(S5) TandemVu 7-inch 2 MP 32X Powered by DarkFighter IR Network Speed Dome is a testament to their commitment to providing superior security solutions.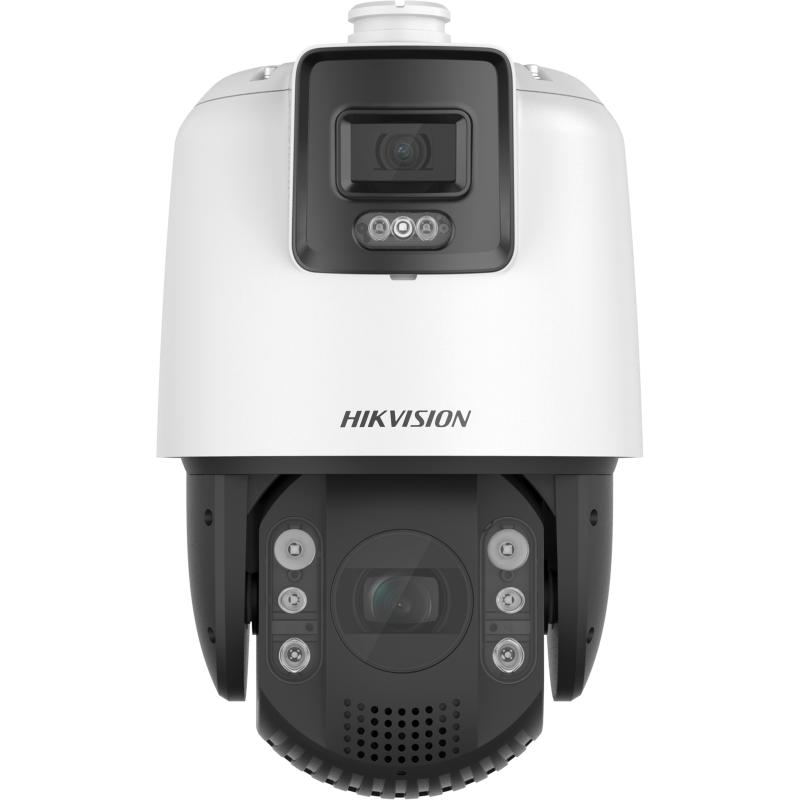 1/2.8″ Progressive Scan CMOS
Up to 2560× 1440@30fps resolution
Min. illumination: [PTZ channel]:Color:0.005Lux @ (F1.2,AGC ON),B/W:0.001Lux @ (F1.2,AGC ON) ,[panoramic channel]:0.005Lux @(F1.6,AGC ON) ,0 Lux with IR
32× optical zoom, 16× digital zoom
WDR, HLC, BLC, 3D DNR, Defog, Regional Exposure, Regional Focus, Rapid Focus
Up to 200 m IR distance
24 VAC & Hi-PoE
Support H.265+/H.265 video compression
Supports audio visual alarm. The white flashing light and audible warning can be triggered by certain events, and the warning content is selectable
Equipped with a 1/2.8″ Progressive Scan CMOS sensor, this speed dome camera delivers exceptional video quality with up to 2560×1440@30fps resolution. Whether it's day or night, the DS-2SE7C124IW-AE(32x/4)(S5) ensures clear and detailed images. With an impressive minimum illumination level, as low as 0.005Lux in color and 0.001Lux in black and white, this camera captures every detail even in challenging lighting conditions.
The 32× optical zoom and 16× digital zoom capabilities allow for close-up views without compromising image quality. Whether you need to focus on specific areas or capture distant objects, this speed dome camera provides versatility and flexibility in surveillance.
With advanced features such as Wide Dynamic Range (WDR), High Light Compensation (HLC), Backlight Compensation (BLC), 3D Digital Noise Reduction (3D DNR), Defog, Regional Exposure, Regional Focus, and Rapid Focus, the DS-2SE7C124IW-AE(32x/4)(S5) ensures optimized image quality in various challenging scenarios. Whether it's dealing with backlighting, low-light environments, or adverse weather conditions, this camera delivers superior performance.
The camera's powerful infrared (IR) capability allows for up to 200 meters of IR distance, ensuring clear visibility even in complete darkness. Whether it's monitoring large outdoor areas or dimly lit environments, the DS-2SE7C124IW-AE(32x/4)(S5) provides reliable surveillance day and night.
With support for H.265+/H.265 video compression, this speed dome camera optimizes bandwidth and storage efficiency without compromising image quality. It helps reduce network traffic and storage requirements, making it a cost-effective and efficient solution for surveillance systems.
Additionally, the DS-2SE7C124IW-AE(32x/4)(S5) supports audio-visual alarms, enhancing the overall security system. By triggering white flashing lights and audible warnings in response to specific events, this camera helps deter potential threats and provides real-time alerts.
When it comes to purchasing HIKVISION products, HIKD is the go-to destination. HIKD is a global leader in video surveillance solutions, offering a wide range of HIKVISION products. With a strong partnership and a reputation for delivering competitive pricing and exceptional service, HIKD ensures customer satisfaction. Visit their website at https://www.hikdistribution.com or contact sales@hikdistribution.com for more information.
Experience unparalleled surveillance with the HIKVISION DS-2SE7C124IW-AE(32x/4)(S5) speed dome camera. From its high-resolution imaging capabilities and advanced features to its reliable performance in various lighting conditions, this camera is designed to deliver top-notch security. Trust HIKD, the leading provider of video surveillance solutions, to meet your surveillance needs.