A Glimpse into the Future of Surveillance: HIKVISION's DS-2DE3204W-DE(T5) and DS-2DE3A400BW-DE(T5) Innovative Mini PT Dome Cameras
In today's dynamic world, where security is paramount, HIKVISION once again proves its dedication to redefining surveillance technology with its latest offerings – the DS-2DE3204W-DE(T5) 3-inch 2 MP 4x Zoom Mini PT Dome Network Camera and the DS-2DE3A400BW-DE(T5) 3-inch 4 MP ColorVu Mini PT Dome Network Camera. These two cutting-edge products stand as a testament to HIKVISION's commitment to innovation, quality, and unparalleled security.
**Capturing Every Detail with Precision**
The DS-2DE3204W-DE(T5) is a miniature powerhouse, boasting high-quality imaging with its 2 MP resolution. This remarkable clarity ensures that no detail goes unnoticed, making it perfect for spaces where every pixel matters. Clear imaging against strong backlighting is made possible by its advanced 120 dB WDR technology, allowing this camera to excel even in challenging lighting scenarios.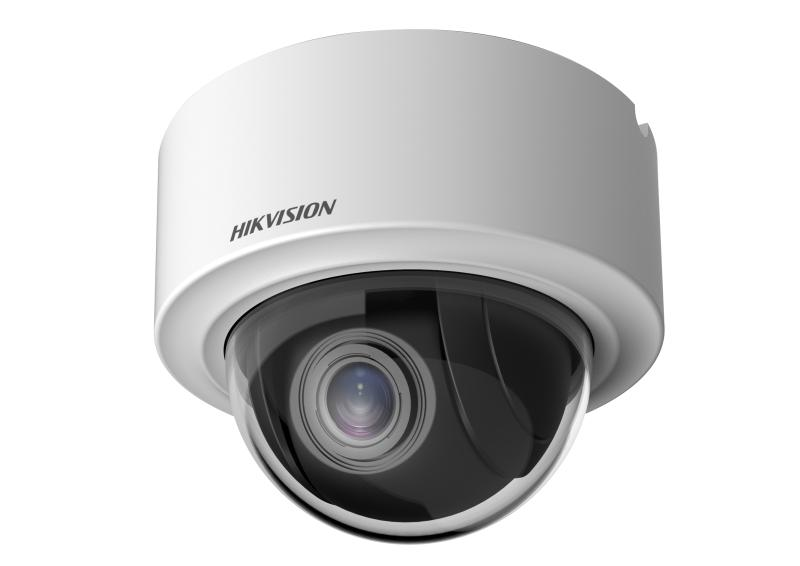 3-inch 2 MP 4x Zoom Mini PT Dome Network Camera
High quality imaging with 2 MP resolution
Clear imaging against strong back lighting due to 120 dB WDR technology
Pan and tilt ability enables camera to monitor zones of interest
4 × optical zoom allows for closer viewing of subjects in expansive areas
Water and dust resistant (IP66)

3-inch 4 MP ColorVu Mini PT Dome Network Camera
Focuses on human and vehicle targets classification based on deep learning
Face capture: automatic selection of best shot; up to 5 faces detected and captured at the same time
Linked audible and visual alarm. Built-in microphone and speaker
Up to 2560 × 1440 @ 30 fps
Min. illumination: Color: 0.0005 Lux @ (F1.0, AGC ON); 0 Lux with white light
24/7 colorful imaging with low power consumption. Up to 30 m white light distance
120 dB WDR, 3D DNR, HLC
IP66; PoE
**Unveiling the Unseen with Optical Excellence**
Equipped with a 4x optical zoom, the DS-2DE3204W-DE(T5) empowers users to closely examine subjects even in expansive areas. Its pan and tilt ability further enhances its adaptability, making it ideal for monitoring zones of interest. This camera isn't just a surveillance tool; it's a versatile visual solution that adapts to your needs.
**Resilience Meets Clarity with Water and Dust Resistance**
The DS-2DE3204W-DE(T5) is built to withstand the elements. Its IP66 rating ensures water and dust resistance, allowing it to maintain its exceptional performance even in adverse conditions. This makes it a robust solution for both indoor and outdoor surveillance needs.
**Empowering Surveillance with AI Precision**
Stepping into the realm of advanced AI, the DS-2DE3A400BW-DE(T5) focuses on human and vehicle targets classification through deep learning. This intelligent technology enhances its ability to discern and classify objects, providing unparalleled precision in surveillance. The built-in microphone and speaker, along with linked audible and visual alarms, add an extra layer of security, enabling real-time interaction and response.
**Unmasking the Unseen with ColorVu Technology**
The DS-2DE3A400BW-DE(T5) boasts HIKVISION's revolutionary ColorVu technology, which brings vivid color to the darkest corners. Even in near-total darkness, this camera's 24/7 colorful imaging ensures that no detail goes unnoticed. Its low power consumption and up to 30 m white light distance further enhance its effectiveness, allowing it to excel in both daytime and nighttime scenarios.
**Precision Meets Adaptability with HIKVISION's Innovation**
Both cameras sport the remarkable 120 dB WDR, ensuring clear imaging even against strong backlighting. This technology adds an extra layer of reliability to their surveillance capabilities, guaranteeing that no crucial detail goes unnoticed.
In a world that demands constant vigilance, HIKVISION has once again stepped up to deliver. The DS-2DE3204W-DE(T5) and DS-2DE3A400BW-DE(T5) redefine surveillance technology, setting new standards for precision, adaptability, and innovation.
**Where to Find These Pioneering Solutions**
We would like to express our sincere gratitude to HIKVISION for providing us with the opportunity to experience these groundbreaking cameras. For those seeking to elevate their security standards, HIKVISION (www.hikdistribution.com) serves as the ideal source for these innovative products and other advanced surveillance solutions. HIKVISION Distribution's dedication to excellence and customer satisfaction makes them the preferred choice for anyone looking to embrace the future of surveillance technology.
For more information about HIKVISION's revolutionary products and their mission to redefine security, please visit:
About HIKVISION Distribution:
[Highlight HIKVISION Distribution's expertise, dedication, and commitment to providing top-tier surveillance solutions.]
[City, Date] – As the world embraces an era of advanced technology, HIKVISION Distribution stands at the forefront of redefining security standards. A premier distributor in the surveillance industry, HIKVISION Distribution is committed to offering cutting-edge surveillance solutions that empower individuals and organizations to protect what matters most.
With a portfolio of innovative cameras, recording systems, and intelligent analytics, HIKVISION Distribution is dedicated to enhancing security infrastructure. Their unwavering focus on quality, reliability, and innovation ensures that customers receive the best-in-class surveillance solutions for their unique needs.
What truly sets HIKVISION Distribution apart is its commitment to customer satisfaction. With a team of experts ready to provide personalized guidance, technical support, and tailored solutions, HIKVISION Distribution ensures that customers receive a seamless and unparalleled experience.
Embrace the future of surveillance technology with HIKVISION Distribution. To explore their revolutionary products and experience the next generation of security solutions, visit [www.hikdistribution.com](www.hikdistribution.com) or contact them at [contact@hikdistribution.com](mailto:contact@hikdistribution.com).
###